---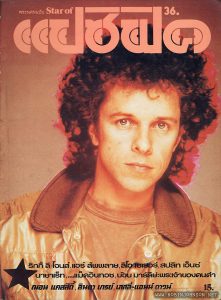 Times Square opened in Thailand in August 1981, but here's a Thai magazine celebrating Robin in September. This was followed by Filmstar Vol. 1 No. 6 that featured a Thai translation of an interview with Robin that had appeared in Seventeen Magazine in October 1980. Did Times Square play in Thailand for three months?

Star of Pacific has no article, but page 49 features Robin on one of a number of full-page color celebrity pin-ups.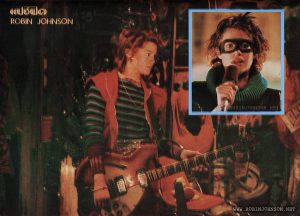 The main image was used in the first set of UK lobby cards, as the Mexican lobby card, and in the Japanese souvenir program book. The inset was also used in the Japanese program book as well as on a promotional flyer, and was also a UK lobby card, printed in Film Review Vol 31 No 1, in January 1981, and was one of the shots used for the Mexican movie poster.

My copy would appear to have been printed at the same facility that produced my copy of the Australian movie poster, in that the color registration is off, producing an annoying out-of-focus effect. Most annoyingly, this is the only page suffering from this defect. Fortunately for us all, there's been a properly printed copy at DefeatedandGifted's Times Square Fandom for ten years.
Would you like to know more?
Times Square UK Lobby Cards, 1st Set (post 3 of 4)
Times Square UK Lobby Cards, 1st Set (post 4 of 4)
Film Review, Vol. 31 No. 1, January 1981
Times Square Program Book, Japan, June 1981 (post 1 of 5)
Times Square Program Book, Japan, June 1981, pages 20-24 (post 4 of 5)
Times Square promotional flyer, Japan, 1981
Guerreras de Nueva York (Times Square lobby card, Mexico, 1981)
Guerreras de Nueva York (Times Square movie poster, Mexico, 1981)
Times Square movie poster, Australia, February 1981
Star of Pacific, September 1981, pp. 1 and 49 (magazine (periodical), AAT ID: 300215389)
29 x 21.5 cm. (work);
Star of Pacific Sept 1981 cover 1080px.jpg
1080 px (H) x 796 px (W), 96 dpi, 515 kb
Star of Pacific Sept 1981 poster scan7 1080px.jpg
778 px (H) x 1080 px (W), 96 dpi, 439 kb
(images)

Times Square ©1980 StudioCanal/Canal+