19 December, 2021
0 Comments
---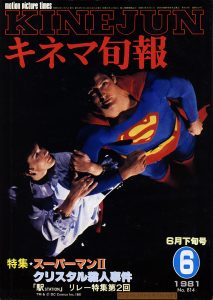 Kinema Junpo (Kinejun, Motion Picture Times) devoted three pages to a promotional Times Square article in its June 15, 1981 issue, for the film's Japanese opening on June 21. The text would appear to be the usual brief synopsis, with a list of some of the cast and crew. The small inset on page 203 is, I think, an ad with showtimes, though it might be a brief review. Please, as I've said before, I don't speak or read Japanese, and dammit neither does Google Translate, so if anyone wants to contribute a translation, I'll be here.
The photos used are all also found in the Japanese souvenir program book.
The back cover is a reproduction of the first chirashi, with the announcement of one show on 6/20. I don't know if that's a special premiere or if I've had the opening date wrong this whole time.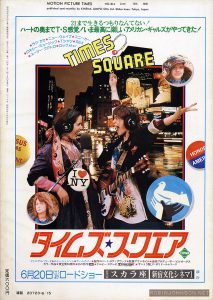 Kinejun No. 814, June 15 1981, Japan (magazine (periodical) (AAT ID: 300215389))
26 x 18 cm. (work);
1981-06 Kinejun no 814 cover_1080p.jpg
1080 px (H) x 767 px (W), 96 dpi, 398 kb
Kinejun_814_198106_p23_layers_1080p.jpg
1080 px (H) x 725 px (W), 96 dpi, 363 kb
Kinejun_814_198106_p24_1080p.jpg
1080 px (H) x 733 px (W), 96 dpi, 383 kb
Kinejun_814_198106_p25_1080p.jpg
1080 px (H) x 722 px (W), 96 dpi, 354 kb
Kinejun_814_198106_p203_1080p.jpg
1080 px (H) x 731 px (W), 96 dpi, 489 kb
1981-06 Kinejun no 814 back cover_1080p.jpg
800 px (H) x 767 px (W), 96 dpi, 567 kb
(images)

©1981 Kinema Junpo Sha Ltd
Times Square ©1980 StudioCanal/Canal+