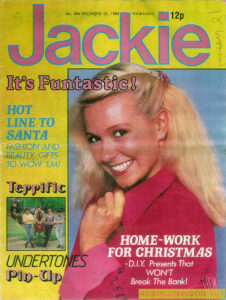 Join the Professionals…
The December 13, 1980 Jackie led off their "Hot Gossip" section on page 36 with a promotional piece for the Times Square soundtrack album, attached at the layout to a promo piece for the debut album by The Professionals, providing the extremely tenuous and only known link between Times Square and Ladies and Gentlemen, The Fabulous Stains.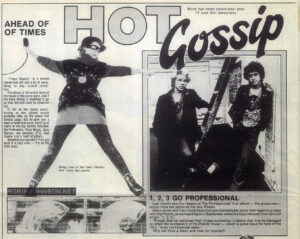 HOT Gossip
More hot news about your pop TV and film favourites.

AHEAD OF OF TIMES

"Times Square" is a double album that will add a bit of everything to any record collection.

The album is the sound track of the movie of the same name, and if the track listing is anything to go by then the film must be dynamite too.

To list all the bands contributing to the album would probably take up the whole Hot Gossip page, but to give you a taste of what's in store, here's just some of the top names included: the Pretenders, Roxy Music, Gary Numan, Joe Jackson, XTC, Suzi Quatro and a host of others.

Whetted your appetite? Then get hold of a copy now — it's on the. RSO label.

[photo caption:] Nicky, one of the main characters from the movie.
There's nothing here we haven't seen before. The picture is an edited version of #34 from the UK series of publicity stills.
Would you like to know more?
"34"
Ahead of of times (article (AAT ID: 300048715));
Jackie no. 889, December 13, 1980, p. 26; England (magazine (periodical) (AAT ID: 300215389))
34.5 cm (H) x 26 cm (W) (work);
Jackie 884 December 13 1980 cover_1080p.jpg
1080 px (H) x 812 px (W), 96 dpi, 636 kb
Jackie 884 December 13 1980_p26_detail._1080p.jpg
1080 px (H) x 1356 px (W), 96 dpi, 816 kb
(images)

©1980 D. C. Thomas & Co., Ltd.
Times Square ©1980 StudioCanal/Canal+